Strategy, performance and disaster recovery
Strategy, performance and disaster recovery – that's what business continuity means. Your business depends on your systems. Your operations depend on your computers. Therefore, it's simple: Your IT must stay online to keep the doors open.
This is the reality for most Aussie small businesses. Like you, they want things to run smoothly and they hope their managed IT services provider is on the case…
However, most managed IT services providers are actually focused on responding to downtime, not ensuring uptime. They miss the point.
Their clients – people just like you – are really after business continuity, not "IT support".
It's why those clients keep coming to MSD Information Technology.
We're who you turn to for uptime – always.
Do you really know and trust your IT?
These days, virtually every part of every business is touched by or dependent on IT systems.
When everything works well, it's business as usual – smooth, uneventful, profitable.
When everything doesn't work well, it's chaos – fault-fixing, finger-pointing, blame-finding.
Most IT providers for small business focus on scenario 2. But, at MSD Information Technology, we focus on Scenario 1: making sure your IT supports, reinforces and defends business as usual. This is what we mean by business continuity.
Because, really, you don't want "great IT" – what you really want is a better business.
Business continuity, not business IT
Yes, we're an IT services provider, so how do we give you business continuity? Take a look at this diagram.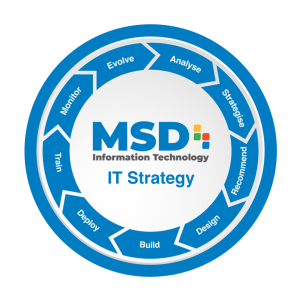 This diagram is a method. It's a structure. It's a map.
Under each of the following three pillars, it covers the key aspects of attaining, securing and ensuring business continuity.:
When you have an expert partner helping you plan, implement, balance and monitor the aspects for each you will turn today's peak performance into tomorrow's day-to-day ops.
That's what business continuity means: turning IT from something that lets your business function into something that makes your business perform.
Find out more About MSD.
We've been making it happen for 30 years
At MSD Information Technology, we start with what you need, not what we offer. That's why we start by asking questions – a lot of questions.
We need to build a profile of your business across:
Structure and trading environment
Physical location and operating conditions
Industry makeup and compliance.
From this profile, we create a unique and holistic IT strategy and begin the business continuity collaboration.
We profile and strategise for every client – no matter how large or small. The reason is simple: a "one size fits all" offering really means "a size that suits no one".
For 30 years, businesses like yours have turned to MSD Information Technology because they needed a technology partner who understood their business, not just their tech. From working with hundreds of clients like you, we're confident in saying we're experts in working with businesses from 1 to 100 staff to unlock growth without being held back by IT.
A proven track record in:
Farming
Mining
Energy
Hospitality
Tourism
Sport/recreation
Associations/clubs
Construction
Real estate
Transport
E-commerce
Marketing
Creative services
Retail
Manufacturing
Simply put, we believe technology should enhance your organisation's success, not hold it back.
It begins with a conversation, not a sales pitch
When you contact MSD Information Technology, you'll be speaking with IT experts. We need to get to know your business – the strengths it has and the challenges it faces – before we can begin talking about how you move to ensure that…
… what can be resolved is fixed, and
… what can be controlled is addressed, and
… what can't be controlled is mitigated.
After your initial contact, we can have the wheels in motion in just a few days. Or, if you're facing a crisis, we offer same-day emergency response too.
All you need to do is visit our Contact Us page or call us directly on 07 3368 7888. Do that and you've just started the conversation that will unlock the business continuity that keeps your digital operations going, no matter what.
How long can you wait? Because the next cyber threat is already here, your software licences are already expiring, your hardware is already out of warranty, the next power surge is coming…